Holidays in Canada in 2023: long weekends to plan your travels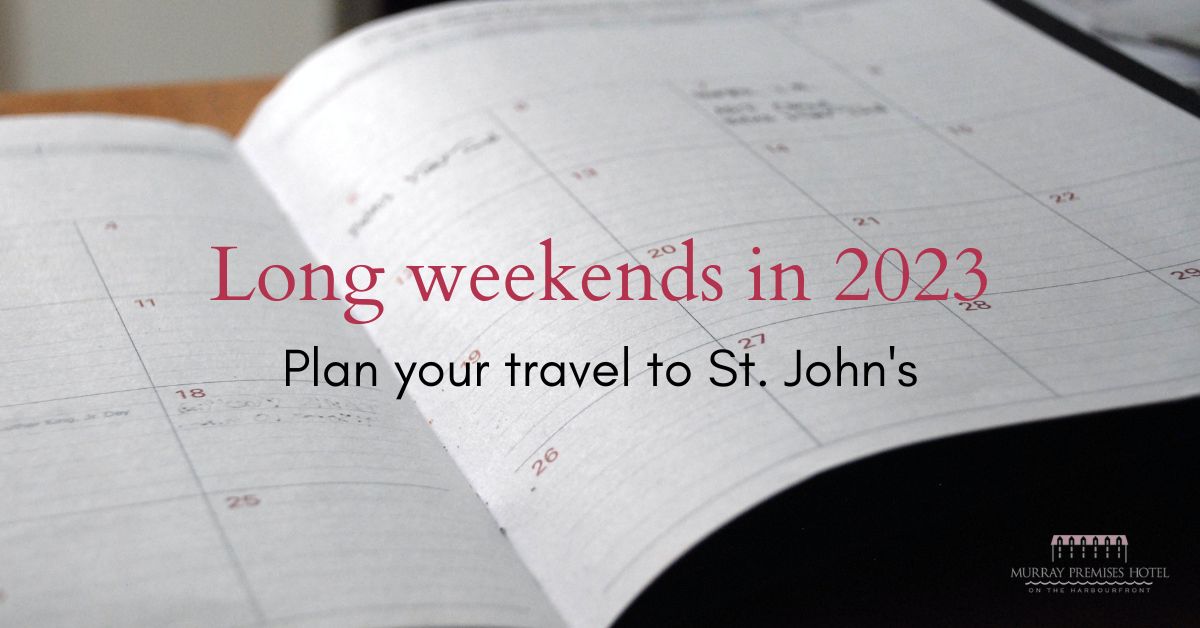 To help you plan your travel in 2023, we researched all holidays in Canada that will be long weekends next year.
Breaks during the year are excellent opportunities to relax and send the stress far away from your life. Check the perfect date opportunities to travel in our list below:
Good Friday – April 7th and Easter Monday – April 10th
Spring is an amazing time to visit St. John's. The city gardens bloom and create a perfect scenario with our colorful row and Victorian style houses. The Easter holiday is a great opportunity to explore the city attractions since it is the longest weekend.
Travel tip: Use the extra time to drive to nearby locations such as the La Manche Provincial Park, one hour by car from the hotel.
Check more info about the park:
Victoria Day – Monday – May 22
Victoria's Day happens on a Monday, giving you three full days to explore the city. As the weather gets warmer, one good idea is to go for hikes and see the beautiful St. Johns scenarios.
Travel tip: A must-go for hiking lovers is the East Coast Trail. Views from the bay, lighthouses, and much more. Check more info on the East Coast Trail website: https://www.eastcoasttrail.com/en/index.aspx
Civic Holiday – Monday – August 7
Enjoy the last bit of warmer temperatures to visit St. John's outdoors. For a long weekend, picnics in parks, walks along the lake or strolls downtown are great.
Travel tip: Visit Bannerman Park, Downtown St John's and go for delicious ice cream at The Parlour, right in front of the park!
Labor Day – Monday – September 4
In September, the city starts to gain those brown and red shades as fall approaches. Are you planning a new couple, family, or personal photoshoot? Fall in St. John's is an amazing opportunity for having professional portraits.
Travel tip: Contact a photographer and take advantage of the fall scenarios and our hotel background.
Thanksgiving – Monday – October 9
It is the last long weekend of 2023 before the Holidays. The Winter Holidays can get very busy with all the gatherings and events, so enjoy a peaceful and cozy long weekend in St. John's before the rush.
Travel tip: Check the Lester's Farm Market Fall calendar for country fun, such as the Pumpkin Fest or the Petting Barn. More info on: http://www.lestersfarmmarket.com
Now that you have all the information about holidays that will be long weekends in Canada in 2023, start planning your next visit to St. John's – NL.
Click here and book your room at the Murray Premises Hotel to stay in the city's downtown, close to all attractions, restaurants, pubs, and shops.